Overhead Doors from Alpine
Alpine manufactures high quality overhead doors and grilles, counter shutters, rolling counter shutters, rolling shutters, rolling storm shutters, commercial overhead doors, roll up gates and industrial overhead rolling fire doors in the U.S.A. Alpine's rolling doors (roll up doors and roll down doors) can be fully customized to suit your specific overhead door needs. As a brand-name, and direct manufacturer of rolling steel doors, rolling grilles, rolling shutters and coiling doors, we specialize in creating reliable, durable roll up doors that will provide our customers with many years of service.
Our doors, rolling shutters and rolling steel grille doors are built and tested to sustain long-term use in the most crucial conditions. Alpine designs and manufactures insulated overhead doors, roll down fire shutters, rolling smoke fire shutters, service doors, security roller shutters for your windows, commercial overhead doors, overhead garage doors, steel rolling doors, and other innovative products that are tested and classified to provide protection in different situations including storm, weather, fire, smoke, and security.

> View Alpine's Overhead Door Selection
Overhead Doors for Virtually Any Application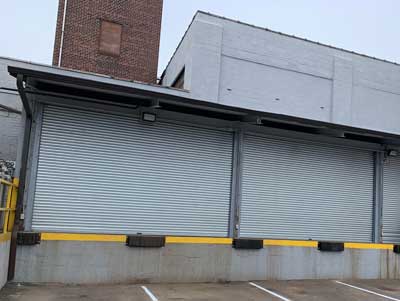 Alpine designs and manufacturers standard and custom rolling doors and grilles for many conventional and specialty applications. Popular applications include store fronts, loading docks, warehouses, shipping and receiving platforms, parking garages, aircraft hangars, police stations, government facilities, and military platforms. Our storm and fire doors are found throughout the world for storm shelters, schools, office buildings, emergency call centers, police stations, post offices or anywhere that may be subject to intense storms.
We are well known throughout the industry for building specialty products. These include military aircraft, satellite facilities, nuclear power plants, and maritime environments.  
Standard Models – Alpine's standard door models are designed for easy, trouble-free operation with minimal maintenance required. Flexibility is at the heart of our design process. We understand that every aspect and component of a door must be tailored for its specific use. Alpine's doors are designed to last. Thousands of our doors have remained in service for over 20 years.

Specialty Products – Our engineering and manufacturing capabilities enable us to provide specialty products that others cannot. For example, Alpine has successfully manufactured and installed some of the largest rolling security and fire doors in the world – up to 65' feet wide x 30' feet high. 
"Alpine is committed to excellence. Their sales staff is very knowledgeable, friendly and they are very helpful on difficult projects."
"I have been working with Alpine for 40 years. They have proven to be a consistently reliable manufacturer of quality doors that last for a long time... When it comes to rolling doors Alpine is my go to company. They have the expertise and manufacturing capabilities to make custom doors and do it well."
"Alpine is a pivotal part of our success. Their ability to meet time sensitive deadlines – allows us to cultivate a trusted service brand that customer know they can count on."
"We have been working with Alpine for over 15 years, they were the only ones that could provide a 225 MPH Hurricane Resistant Door for a pharmaceutical project after Hurricane Maria destroyed the island of Puerto Rico."
"I have been a customer of Alpine Overhead Doors for over 25 years. I have always been able to rely on their products."
"Alpine Doors have proven to be consistent, reliable and innovative, giving us an edge over competitors in the marketplace. They have the design expertise and the manufacturing capabilities to produce outstanding custom doors."